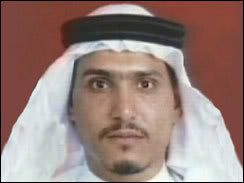 (CBS/AP) The leader of al Qaeda in Iraq, Abu Ayyub al-Masri, was arrested in the northern city of Mosul, the Iraqi Defense Ministry spokesman said Thursday.
Spokesman Mohammed al-Askari said the arrest of al-Masri, also known as Abu Hamza al-Muhajir, was confirmed to him by the Iraqi commander of the province. There was no immediate confirmation or comment from U.S. forces on the arrest.
The U.S. military in Baghdad says it is aware of the reported arrest, but has no "operational reports" and is looking into it, reports CBS News correspondent Cami McCormick.
Interior Ministry spokesman Maj. Gen. Abdul-Karim Khalaf said that Mosul police "arrested one of al Qaeda's leaders at midnight and during the primary investigations he admitted that he is Abu Hamza Al-Muhajir."
News of the arrest was also reported by Iraqi state television and Arab satellite TV stations.
The state channel, Iraqiya, said that Minister of Interior Jawad al-Bolani would reward Mosul police for the capture.
If confirmed, the arrest would represent a major blow to al Qaeda in Iraq, which has been on the run for the past year following a shift in alliances by Sunni tribesmen in western Anbar province, and elsewhere, and an influx of thousands of U.S. troops.
The U.S. military considers the organization its number one enemy in Iraq.
"The commander of Ninevah military operations informed me that Iraqi troops captured Abu Hamza al-Muhajir the leader of al Qaeda in Iraq," al-Askari told The Associated Press by telephone.
He did not have any further details nor did he say when the al Qaeda leader was arrested. According to unconfirmed reports he was caught Thursday evening in the Tayran area in central Mosul, 225 miles northwest of Baghdad.
Mosul is currently a major battleground for U.S. forces and al Qaeda.
Al-Masri, an Egyptian militant, took over al Qaeda in Iraq after Abu Musab al-Zarqawi was killed June 7, 2006 in a U.S. airstrike northeast of Baghdad.
The Islamic State of Iraq, an umbrella organization that includes al Qaeda in Iraq, last year announced an "Islamic Cabinet" for Iraq and named al-Masri as "minister of war."
U.S. officials said al-Masri joined an extremist group led by al Qaeda's No.2 official in 1982. He joined al Qaeda training camps in Afghanistan in 1999 and trained as a car bombing expert before traveling to Iraq after the U.S.-led invasion in 2003.
According to associates in Afghanistan, al-Masri has been involved in Islamic extremist movements since 1982, when he joined Islamic Jihad, a terror group led by Ayman al-Zawahri, who became bin Laden's chief deputy.
Al-Masri fought with Muslim rebels against the Soviets in Afghanistan in the 1980s and later ran al Qaeda training camps there.