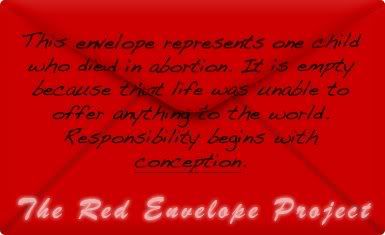 There is a movement going across our nation to have a "Red Envelope Day" on MARCH 31st
Now this is going to take a bit of work on your part, but because you value life, I think you'll be glad you took the time and effort.
For everyone in your household, go buy a RED envelope for each person (Hallmark, Stationary stores, Kinkos, at party supply stores, all have them).
On the front of an empty SEALED and stamped red envelope write: (be sure to include a return address or it might not get delivered.)
President Barack Obama
The White House
1600 Pennsylvania Ave. NW
Washington, D.C. 20500
On the back write the following message:
"This envelope represents one child who died because of an abortion. It is empty because the life that was taken is now unable to be a part of our world."
It is important that both the address and the statement be in each person's handwriting, please do not type.
Together we hope to change the heart of our president and save millions of future babies.
Please forward this to everyone who you think might join our "March of Red Envelopes" in time for the MARCH 31st day. Time is of the essence.
Experts say that for every one person who gives their time to this cause, there are 10 to 15 others who share the same convictions about this subject but won't take the time to join us.
With this in mind, we are hoping for 50 million or more Red envelopes to hit the White House at about the same time. Please consider being part of this 50+ million by participating and asking others to do the same thing. This would be historic and you could be a part of history.
Thank you on behalf of those who were silenced.
Remember to mail it on Tuesday March 31st, 2009.
*Visit RedEnvelopeDay.com for more info.