Change has been a constant for Barbie's 50 years
By Kathy Flanigan of the Journal Sentinel
What aging really would have done to Barbie, according to Paula Papanek, associate professor of physical therapy, who studies issues related to aging and the body at Marquette University: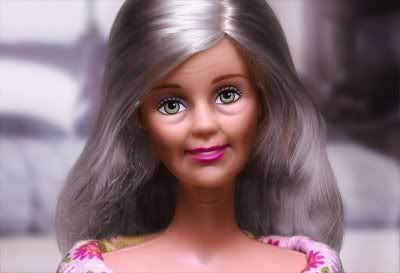 She would have back pain from the high heels she has worn all these years and may have tight Achilles tendons.
She would be in danger of having osteoporosis from not consuming enough calcium.
She would likely wear glasses or have had Lasik surgery.
Her hair would be graying.
She might have gotten a little shorter.
She would likely have trouble standing up, given the size of her breasts and her small waist.
Sources: www.barbie.com; "Barbie and Ruth" by Robin Gerber (Collins Business; $24.99); www.dolls4play.com, New York Times.
By The Numbers
Barbie on eBay:
In the past three months, 217,736 Barbies have been sold.
The average selling price of a Barbie on eBay is $24.45.
45,422 vintage Barbies (those produced before 1973) have been sold (average vintage price is $39.06).
The most expensive Barbie sold for $7,999.99. It was a No. 1 1959 Ponytail Barbie.
To be like Barbie?
According to Frank Papay, plastic surgeon and chairman of the Dermatology and Plastic Surgery Institute at Cleveland Clinic, to look like Barbie, a typical 50-year-old woman would need to:
Have a chemical peel and use Retin A. "That should help the texture of her skin and get rid of the blotchiness and some of the pigment changes."
Get an eye uplift where ligaments have loosened and maybe a mid-face lift.
Get a brow lift and Botox in the furrows between the eyebrows.
Have Botox injections in the laugh lines. If they're severe, have a chemical or laser peel.
Have a face lift to help raise the area where the jowls sag.
Have a neck lift for sagging under the chin.
Schedule a breast augmentation or a breast lift.
Schedule surgery to alleviate the saddlebags that settle in hips and thighs due to hormonal changes.
Little girls worship her; adult women want to be her.
Iconic fashion model and doll Barbie turns 50 on March 9. Does that make Barbie over the hill? Before you answer, consider this: She still has the supple skin of a teenager, the idealized body of a woman in her 20s and no crow's feet to be found. To this day, Barbie wears the smallest of sizes.
Then again, she's sporting more plastic than one of "The Real Housewives of Orange County."
Turning 50 is reason enough to celebrate Barbie. But for more incentive, we offer 50 details about Barbie's life so far:
1  She was born Barbara Millicent Roberts.
2  Barbie is 11½ inches tall.
3  If Barbie were 5 feet, 6 inches tall, she would have a 39-inch bust, a 21-inch waist and 33-inch hips.
4  Barbie is the brainchild of Ruth Handler, one of the founders of Mattel.
5  Handler was inspired by a European doll called Bild-Lilli, a doll for adults that Handler said she saw in Vienna or Lucerne.
6  Handler named the Americanized doll after her daughter, Barbara.
7  In a series of novels published by Random House in the 1960s, Barbie's parents were George and Margaret Roberts who lived in the fictional town of Willows, Wis.
8  Barbie attended Willows High School but graduated from Manhattan International High School.
9  Barbie's boyfriend is Ken. He's named after Handler's real-life son, who, incidentally, hated the comparisons.
10  Barbie and Ken split up in 2004. They reunited in 2006.
11  Barbie has had more than 40 pets in her lifetime, including a panda, a lion cub and a zebra.
12  Barbie, who started her professional life as a teenage model, has had several careers.
13  Barbie has a pilot's license and can operate a commercial airliner. She has also been a flight attendant.
14  Barbie found a best friend in Midge, who was part of the Barbie lineup from 1963 to 1966.
15  Doctor Barbie debuted in 1988.
16  NASCAR Barbie came out in 1998.
17  There are more than 500 groups related to Barbie on Facebook, including one called Tequila Barbie.
18  Another group is called Divorce Barbie. "Divorce Barbie comes with Ken's boat; Ken's house; Ken's car; Ken's money;" and, well, you get the idea. Last time we checked, there were eight members.
19  In homage to Sarah Palin, there are two different Facebook groups called Caribou Barbie.
20  The first Barbie cost $3.
21  Barbie Collector Doll Pink Label 50th Anniversary Barbie Doll costs $49.99; the most expensive Barbie sold on eBay to date fetched $7,999.99.
22  Barbie had her own show with clothing from 50 fashion designers at Fashion Week last month.
23  Mattel estimates that three Barbies are sold every second.
24  Barbie has had more than 1 billion pairs of shoes.
25  Barbie is on Twitter (although inconsistently) @BarbieStyle.
26  The year Barbie was born is the same year that Xerox debuted a commercial copier.
27  Barbie dolls were sealed in a time capsule in 1976 as part of the Bicentennial celebration to be opened in 2076.
28  Malibu Barbie was introduced in the 1970s. "The Simpsons" parodies Barbie by having Lisa own a Malibu Stacy.
29  The first annual Barbie convention was held in 1980.
30  The first commercials for Barbie ran on "The Mickey Mouse Club."
31  The first Barbie doll dress designed by Bob Mackie was called "Gold."
32  Totally Hair Barbie is the best-selling Barbie of all time.
33  In 1965, the only club for children whose membership exceeded Mattel's was the Girl Scouts of America.
34  In 1967, Mattel offered a Twist 'n Turn Barbie to girls who turned in their Ponytail Barbie dolls.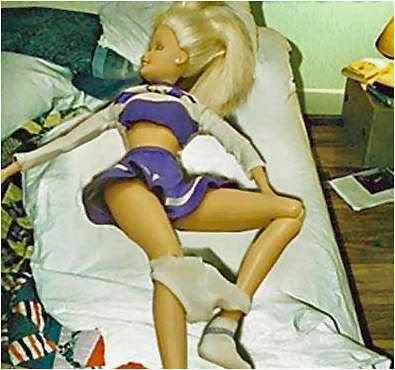 35  Sidepart American Girl Barbie is considered the rarest of the tan-tone vinyl bendable leg Barbie dolls.
36  Twiggy, the model, was Barbie's first celebrity friend.
37  Early market research suggested Barbie would never sell because she had breasts; little girls wouldn't like her and parents wouldn't buy her.
38  Barbie met Ken in 1961.
39  Barbie has five baby sisters. The first, Skipper, debuted in 1964.
40  A 1959 Barbie in mint condition is estimated to bring $27,450.
41  The first Barbies had white irises. The eye color was changed to blue in 1960.
42  The 1988 Happy Holidays Barbie is considered the first non-porcelain "collectible Barbie." When the 1988 Happy Holidays Barbie flew off the shelves and began commanding high values on the secondary market, Mattel realized there was a huge market for adult collectors.
43  In 1986, Andy Warhol was commissioned to paint a portrait of Barbie.
44  The 1999 "Generation Girl" series was considered controversial because one doll had a nose ring and another had an ankle tattoo.
45  Teacher Barbie was recalled in 1995 because she wasn't wearing panties.
46  The first black and Hispanic Barbies were introduced in 1980. (Barbie's African-American friend, Christie, had been introduced in 1968.)
47  There was a Miss Astronaut Barbie in 1965.
48  Barbie made a brief appearance in the movie "Toy Story 2."
49  Sales of Barbie were outlawed in Saudi Arabia in 2003.
50  In 1997, Barbie was redesigned and given a bigger waist.
http://www.jsonline.com/entertainment/40381612.html