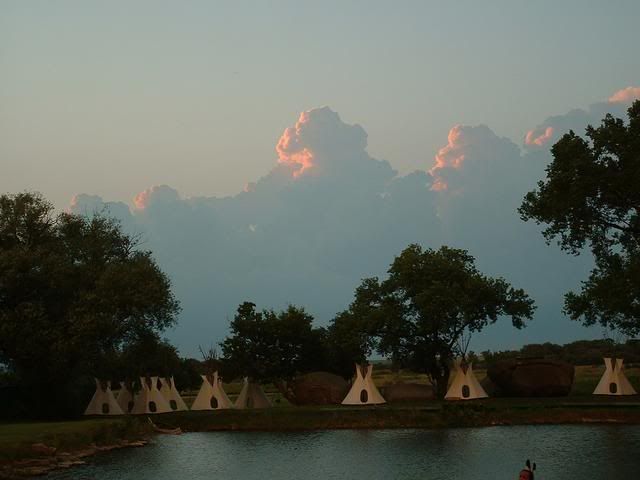 Since 1948, The Song of Hiawatha Pageant captured the eyes and hearts of Pipestone locals and visitors from every state in the U.S. plus a huge number of foreign countries. Following the 2008 show series, the Pageant will make a final curtain call, marking 60 years of entertainment.
The Song of Hiawatha Pageant has been publicized in major publications including Time and Life magazines, and named one of the Top 100 Events in the country by the American Bus Association. Performances will take place Friday and Saturday nights, the last two weekends in July (July 18, 19, 25 & 26) and the first weekend in August (Aug 1 & 2).
The Pageant is staged on a 40-acre natural amphitheater with a beautiful quarry lake at the center. The grounds are located close to the Pipestone National Monument, home of the pipestone quarries and just a few blocks from Pipestone's Historic Main Street.
The Pageant is a reenactment of Henry Longfellow's vision of the Native American Indian. The reenactment follows the storyline of a Native American Indian boy named Hiawatha from small child to adult. The young Hiawatha's life highlights include learning to hunt, canoe, fighting with evil serpents, famine, and fever. At one point Hiawatha skims across the lake via a white birch bark canoe to claim his bride, the lovely Minnehaha. A wedding feast and celebration also take place during the show.
This theater of memories will see one final staging of the Longfellow poem. Last fall the Hiawatha Club voted to end production after years of declining attendance.
More than half a million people have seen the Song of Hiawatha Pageant since it began in 1948.