Those who wear their guns in full sight are part of a fledgling movement to make a firearm a common accessory.
PROVO, UTAH -- For years, Kevin Jensen carried a pistol everywhere he went, tucked in a shoulder holster beneath his clothes.
In hot weather the holster was almost unbearable. Pressed against Jensen's skin, the firearm was heavy and uncomfortable. Hiding the weapon made him feel like a criminal.
Then one evening he stumbled across a site that urged gun owners to do something revolutionary: Carry your gun openly for the world to see as you go about your business.
In most states there's no law against that.
Jensen thought about it and decided to give it a try. A couple of days later, his gun was visible, hanging from a black holster strapped around his hip as he walked into a Costco. His heart raced as he ordered a Polish dog at the counter. No one called the police. No one stopped him.
Now Jensen carries his Glock 23 openly into his bank, restaurants and shopping centers. He wore the gun to a Ron Paul rally. He and his wife, Clachelle, drop off their 5-year-old daughter at elementary school with pistols hanging from their hip holsters, and have never received a complaint or a wary look.
Jensen said he tries not to flaunt his gun. "We don't want to show up and say, 'Hey, we're here, we're armed, get used to it,' " he said.
But he and others who publicly display their guns have a common purpose.
The Jensens are part of a fledgling movement to make a firearm as common an accessory as an iPod. Called "open carry" by its supporters, the movement has attracted grandparents, graduate students and lifelong gun enthusiasts like the Jensens.
"What we're trying to say is, 'Hey, we're normal people who carry guns,' " said Travis Deveraux, 36, of West Valley, a Salt Lake City suburb. Deveraux works for a credit card company and sometimes walks around town wearing a cowboy hat and packing a pistol in plain sight. "We want the public to understand it's not just cops who can carry guns."
Police acknowledge the practice is legal, but some say it makes their lives tougher.
Police Chief John Greiner recalled that last year in Ogden, Utah, a man was openly carrying a shotgun on the street. When officers pulled up to ask him about the gun, he started firing. Police killed the man.
Greiner tells the story as a lesson for gun owners. "We've changed over the last 200 years from the days of the wild, wild West," Greiner said. "Most people don't openly carry. . . . If [people] truly want to open carry, they ought to expect they'll be challenged more until people become comfortable with it."
Jensen and others argue that police shouldn't judge the gun, but rather the actions of the person carrying it. Jensen, 28, isn't opposed to attention, however. It's part of the reason he brought his gun out in the open.
"At first, [open carry] was a little novelty," he said. "Then I realized the chances of me educating someone are bigger than ever using it [the gun] in self-defense. If it's in my pants or under my shirt I'm probably not going to do anything with it."
As Clachelle pushed the shopping cart holding their two young children during a recent trip to Costco, her husband admired the new holster wrapped around her waist. "I like the look of that low-rise gun belt," he said.
The Jensens' pistols were snapped into holsters attached to black belts that hug their waists. Guns are a fact of life in their household. Their 5-year-old daughter, Sierra, has a child-sized .22 rifle she handles only in her parents' presence.
Clachelle is the daughter of a Central California police chief and began shooting when she was about Sierra's age. She would take her parents' gun when she went out and hide it in her purse because the firearm made her feel safer.
"I love 'em," Clachelle said. "I wouldn't ever be without them."
Kevin Jensen's first encounter with guns came when he was 11: His grandfather died and left him a 16-gauge shotgun. The gun stayed locked away but fascinated Jensen through his teen years. He convinced his older brother to take him shooting in the countryside near their home in a small town south of Salt Lake City.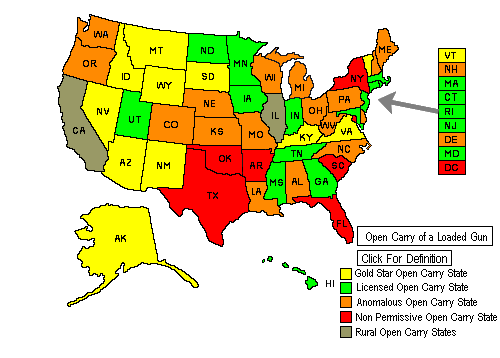 http://www.opencarry.org/